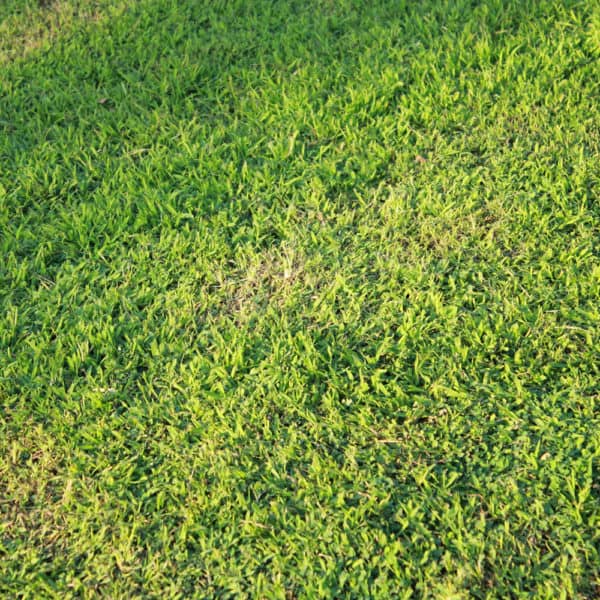 Common & Hybrid Couch
Couch is one of the most popular lawns in Australia and has been so for a long time. Couch has a fine leaf and has a dark green colour, has high durability and is very drought tolerant and occurs natively in many areas – all these factors contribute to its popularity. Couch thrives in full sun and handles extreme heat, but can't handle shade – as little as 10% will affect its growth.
Couch responds well with care and fertilising. Couch is also resistive to many herbicides, allowing many options for selective weed control for a very clean surface.
However, it does need maintenance as it can be very poor without fertilising and water. Couch also develops a brown thatch layer that can quickly build up underneath and cause scalping or unintended removal of the green leaf if not managed correctly. Over-fertilising results in needing dethatching more regularly than normal.
A healthy lawn will require mowing very frequently. Couch is also invasive due to having rhizomes and stolons, so it needs edging and controlling – but this also allows heavy renovation for a manicured finish.
Hybrid couch (Santa Anna, Wintergreen and varieties)
Hybrid couch is a broad description of many modern couch varieties. Many are trademark products. Most are very similar and share characteristics, including a soft, fine-textured leaf approximately 3 mm wide and a longer growing season, with some varieties holding colour almost all year round except for frost regions.
Very durable and self repairing, hybrid couch requires minimal water and fertilising requirements to achieve great results and is more tolerant of shaded areas compared to common couch. Hybrid varieties also offer better weed resistance due to a tighter canopy and gain better results from less maintenance. Best results are achieved with cylinder mowers.
Like couch, hybrid couch has rhizomes and stolons allowing heavy renovation and scalping to dirt, to produce a finely manicured surface. Hybrid couch is also resistant to many selective herbicides.
However, like common couch, hybrid varieties are still prone to the thatch layer build up. Even though they seed, they are sterile but will still be quite invasive and spreads from runners.
If you're not sure what variety of couch grass you have, Lawn Addicts can help with turf identification and professional lawn care programs.